Add an extra set of eyes on your bike
Streetlogic 360 Bike Vision records in all directions and alerts you of approaching cars to keep you safe.
With front and back A.I. cameras and a powerful built-in tailight you'll be ready for anything.
Front & back fisheye lenses record in all directions without any blind spots.
The Streetlogic app uses Tesla-style computer vision to scan for hazards and alert you in real-time.
Streetlogic 360 Bike Vision System
Preorder now to get $100 off the final price
" A very useful tool especially in cities "
"I'm a lot more comfortable riding now"
Maria S.
Beta Tester, San Francisco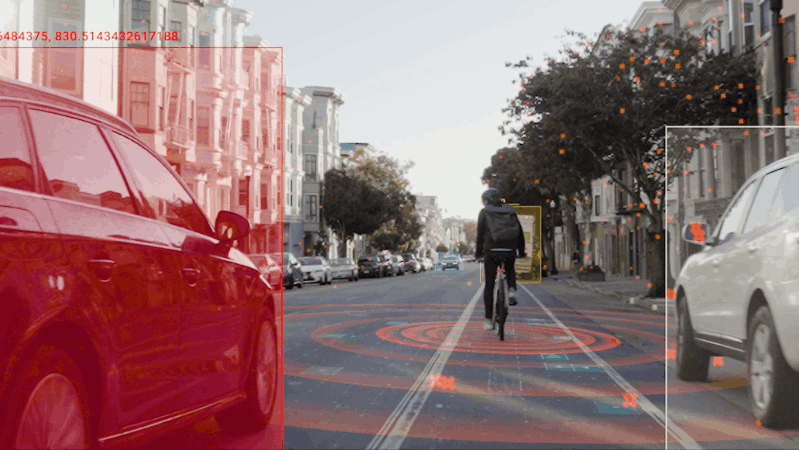 Be alerted of approaching vehicles
You'll receive visual + audio alerts through your phone of cars headed your way seconds before you notice them.

That way you can react faster and prevent accidents.
Automatically save clips of near-miss incidents
The Streetlogic app automatically identifies cars blocking bike lanes or near-miss incidents along your ride and saves a video clip for later use.
Review each incident along your ride
Look back at each near-miss incident along your route and decide which clips to save for later use.
Report hazards to local authorities
With 1 click, you can choose to share your videos with city officials to show where protected bike lanes are needed in your city.
Setup is as easy as 1-2-3
1. Mount the A.I. Cameras to your ebike + connect power

2. Download the App

3. Ride!
Pay only $29 today.

Pay the remaining $270 when we ship in december
If you don't have an ebike, then add our external battery accessory to your manual bike for powering your Streetlogic A.I. Camera.

This battery is waterproof, shock-proof, & thoroughly tested by our engineering team for robustness and reliability.
Rugged external battery add-on for manual bikes
Shock-proof casing

Waterproof IP67

7.2V 5.2Ah Capacity

4 hours recording time
Pay only $7 today.

Pay the remaining $67 when we ship in December.